Keep your FG Wilson generator set working for longer
A complete overhaul of the engine will extend the working life of your FG Wilson generator set and revitalise its performance.
With this in mind, FG Wilson have bundled parts together to make Major Overhaul Kits for some models* making overhauls easier for you. Each kit also offers a considerable cost saving compared to buying the parts separately.
The benefits to you are:
Brand new genuine FG Wilson parts
Designed to bring you maximum performance, reliability and durability
Easy to order
Designed to bring you maximum performance, reliability and durabilitOne part number for each complete kit improving availability and reducing packagingy
No surcharges applied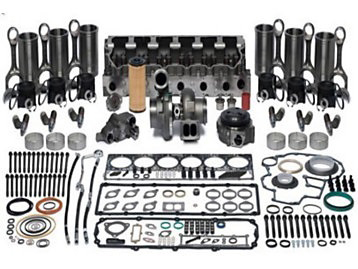 No exchange parts so no additional surcharges applied
Standard parts warranty applies
Our kits are backed by the standard one year parts warranty because when you buy FG Wilson you buy peace of mind
Suitable for fleet owners
Each kit covers a wide range of engine builds eg both A&C series and all TAG models
The Major Overhaul Kit will provide an efficient, economic and comprehensive solution with minimum downtime.
Each Kit Comprises
Turbocharger
Cylinder Liners
Injectors
Thermostat
Oil Pump
Water Pump
Lift Pump
Turbo Oil Feed Pipes
Pistons & Piston Ring Kits
Pistons & Piston Ring Kits
Connecting Rods & Big End Bearings
All required Seals, Rings, Gaskets & hardware
To discuss your overhaul needs please contact your authorised FG Wilson dealer

*Major Overhaul Kits available for most of the generator sets in the 400 kVA to 750 kVA range.