FG Wilson Dealer Helps Power Iconic Sports Complex
FG Wilson, the leading global manufacturer of diesel and gas generator sets, has helped successfully deliver a full power solution for one of the largest multi-purpose sports complexes in the Middle East.
Working in close partnership with Horizons Engineering, its dealer in Jordan and Iraq, FG Wilson recently completed the power installation at Basra Sports City, an $800 million (£550m) mixed-use development which has received worldwide acclaim since officially opening earlier this year.
Comprising a 65,000-capacity main stadium, a secondary stadium big enough to house 10,000 people, four training fields and eight athletics arenas, the Iraq venue is set to host the 2015 Gulf Cup of Nations soccer tournament. As well as world-class sports facilities, Basra Sports City is also home to four five-star hotels as well as restaurants, a sports residential complex, a man-made lake, service buildings and a fire station.
Horizons managed the installation of seven FG Wilson generator sets - including one main FG Wilson 2500 kVA / 11 kV generator set, two 800 kVA containerized units, two 750 kVA containerized units and two 400 kVA canopy units. These are currently providing prime power to the entire 558-acre complex, however this will revert to back-up power at a later stage of the construction process, when major international events will take place in Basra Sports City.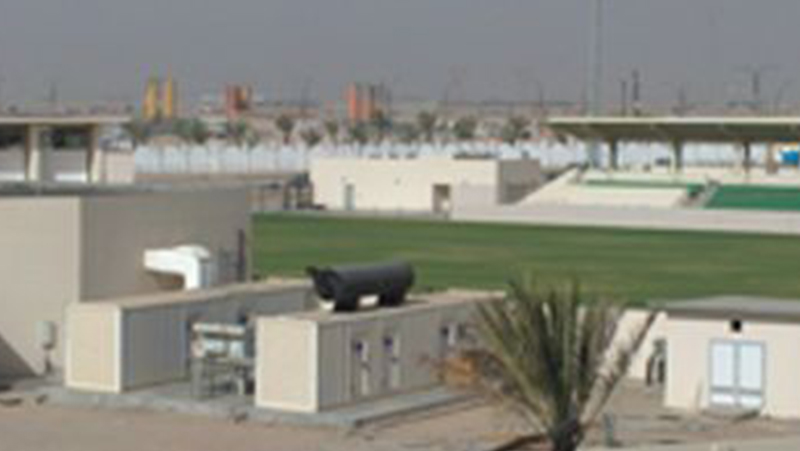 The $1.5m Basra Sports City contract was awarded to Horizons by Anwar Soura General Contracting Company, for whom Horizons had delivered projects previously, with the brief requesting design, specification and installation of a back-up power system.
Indeed, so successful has the installation been that it has led to further similar business wins for Horizons, who has been named as the preferred supplier of power solutions for two major Government-funded sports complexes in Iraq - the Holy Al Najaf Stadium and Al Menaa Stadium.
It was the first time Horizons had worked on a project of the scale of Basra Sports City and there were a number of difficult challenges to be overcome, not least the local security issues, strict construction deadlines and the on-site ambient temperature. The combined expertise of FG Wilson and Horizons ensured these challenges were overcome, as Mohammed Ali Kilani, Deputy Managing Director of Horizons, explained:
"Basra Sports City is an iconic landmark of which the people of Iraq are extremely proud - it was a huge privilege for Horizons and FG Wilson to play such a key role in the 36-month construction project. Our track record of successfully delivering on installation contracts for Anwar Soura General Contracting Company was key to us securing the deal and we are looking forward to working on similar high-profile sports complex projects in the near future.
"As well as the huge scale of the project, our team and that of FG Wilson had to draw on our in-depth experience and expertise to ensure that the design, specification and installation of the generator sets met the very specific deadlines dictated by the overarching construction project. Our work was a vital cog in a huge machine and not meeting the deadlines was simply not an option but, as ever, our teams delivered on time, on budget and to specification.
"We had to carry out research to ascertain the specific type of generator set that was best suited to the site conditions and ensure the set loads were calculated to optimum levels, all the while having to contend with the ambient temperature of the site. Another major challenge which was very unique to this project was the security situation in Iraq - our management team had to take every precaution possible to ensure the safe delivery of the units to the site and, of course, to protect the units while they were on site."
The generator sets at Basra Sports City are located at different sites throughout the complex. The largest 2,500 kVA generator set and the 750 kVA containerised unit are situated in the 65,000-capacity main stadium with the other 750 kVA generator set positioned in the 10,000-seater secondary arena. There are two generator sets (800 kVA and 400 kVA) located at the pumping station and waste water treatment plant, with one in the data centre and one in the VIP guest house.
Commenting on the project, Eng. Maad Al Zubaidy, of Anwar Soura General Contracting Company, said:
"This was one of the most significant construction projects Iraq has seen in recent years and one which we hope will provide a lasting sporting and cultural legacy for the area. FG Wilson's stellar pedigree and reputation as the leading global manufacturer of diesel and gas generator sets, combined with Horizons' proven track record throughout Iraq and Jordan, made the partnership an obvious choice for the delivery of a back-up power solution.
"The project brief was met in full and we were extremely pleased with Horizons' performance and the final installation for Basra Sports City. The power solution provided for the development has been a huge success."
Through a global network of 380 Dealers, FG Wilson successfully serves and supports customers all over the world. With the back-up of FG Wilson's power solutions team, Dealers can meet any power requirement, no matter how complex.
Horizons has been an official FG Wilson Dealer since 1999, providing complex client solutions alongside the full range of FG Wilson diesel and gas generator sets.